Arily Faith Kinsella O'Halloran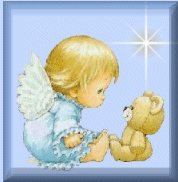 Daddy's Story
Jean and I had been thinking and talking about having a child since we got married in 2004, and we finally decided to start trying in late 2005. We didn't expect to get pregnant at the first real try! We found out in February 2006, and as you might expect we were over the Moon. It was a scary prospect - we were going to be parents, after all - but it was something I was looking forward to immensely. I was so excited, I drove Jean batty for the first few weeks! We held off until March before telling everyone - it was our first pregnancy and we wanted to spread the news to our families,friends and colleagues. It's a natural reaction.
The first trimester went so quickly. Jean had some problems with spotting, so we had a sonogram at 6 weeks 4 days to check for problems - and I saw my little girl for the first time. She was only a small white dot, but there she was. I cried, and there's no shame in admitting that! I spent my evenings talking to Jean's belly, talking to my little girl even though of course she'd not developed ears by that stage!!! I just loved being close to her,and I couldn't wait to see her in person in October. I say 'her' for a reason - even though we didn't know the sex, I always had a premonition that my first child would be a girl, so the baby was always referred to by me as 'she'. Jean felt the same, so the baby became 'she' from there on in!
The role of an expectant father is an odd one. Obviously, we're not the one carrying the baby, so we can't feel movements of the baby etc., and our role is really as support for our partners as they go through morning sickness, tiredness and all the associated symptoms - we're really just along for the ride, and so it feels a little unreal. Jean got all those symptoms by the way, though morning sickness for Jean was more along the lines of a queasy stomach lasting 19 weeks! Plus she developed an unbeliveable sense of smell - I was banned from eating anything with garlic in it. The worst occasion was when we went to the cinema and I bought a hotdog. The smell of the dog was so bad for Jean, I was

forced

to eat the dog at the end of the end of the aisle and it was only after I finished that I was allowed back in her presence!!! As for getting a kiss afterwards, forget it! As she was so tired and sick, she didn't cook for several weeks - and as a result, I lost weight which is no bad thing. She had some moodswings, and we had some doozies of fights, but we always made up afterwards! It was tough, but was amazing.
We got to the end of the first trimester in one piece, the morning sickness eased and we looked forward to the second trimester - it was fun to look at books and pictures to see how our baby was developing at her gestational age. We started buying things for the baby, such as a baby chair, some baby clothes. One weekend, I bought over $100 of stuff from Babies R Us! Things were progressing nicely, and we were looking forward to the scheduled sonogram at 18-20 weeks and seeing our little baby. Things were progessing as they should.
As Jean's sister has spina bifida, we opted for the AFP test to check for it. The test results came back indicating a higher risk for spina bifida, so we were called in for a more detailed sonogram. We were terrified at the prospect of something wrong with her, but we knew that if there was, we could deal with it - Donna, Jean's sister is such an inspirational little girl and she has dealt so well with it. We were brought in, and there was our little girl on the screen!!! She was an active little one to say the least, tumbling over and enjoying herself. When the technician tried to get her to move to figure out the sex, our little girl showed her personality - she put her hand to her head defensively and shook her head to say 'I'm not moving!' We had a stubborn little girl - something she's picked up from both her parents! Dr McLaren examined the sonogram images, and gave us good news - no sign of the typical indicators of spina bifida. She was a little smaller than expected - a week - but everything looked OK, and they'd call us in 3 weeks later just to make sure. We were so, so relieved that our baby was OK. We were so happy to see her on the screen, and laughed at the way she reacted. That's our little girl!
Three weeks passed, and the scheduled sonogram came along. We went back to Dr McLaren, and again we saw her tumbling and moving about - I couldn't help smiling when I saw she was so enjoying herself. I began to get worried when Dr McLaren started to pay a lot of attention to her chest area, and her heart in particular. He told us she had a multicystic kidney, and that it looked like it had shut down. She also had only one umbilical artery, and was lagging 2.5 weeks behind in growth - taken all together, it was a sign of chromosomal abnormality, trisomy 13,18 or 21. He offered us an amniocentesis that day to check, which we went for. The preliminary results would be back in 3 or 4 days, and the full results in two weeks.
We left the doctors office in a state of shock - we were so confident of getting the all clear for spina bifida, nothing like this even came into our minds. Suddenly, we were faced with the prospect of losing our baby. I'm still amazed I didn't crash the car on the way home. Jean spent the entire weekend looking on the internet for information - everything seemed so contradictory and confusing. I went into denial, hoping for the best, that she was just small and that things would be OK and she'd be fine.
On Tuesday the 13th of June, Jean and I arranged to meet for lunch. As she drove closer to me in the parking lot, it looked like she was crying - something was terribly wrong. When I got into the car, she told me the news - our baby had been diagnosed with Trisomy 18 and Turner's Syndrome, our baby was going to die. I sat there in shock, Jean was inconsolable. Our midwife, Karen called on my cellphone, asking me if we wanted to come in and talk with her. I accepted, and drove out to Arlington from Fairfax. Arriving in at the OB practice, we were ushered in quickly to Karen's office. She confirmed the diagnosis, and that was 'incompatible with life'. By this stage we were in floods of tears, but I was trying to keep some control of my emotions as I wanted to find out what our options were. Basically, it boiled down to the following: there was nothing that could be done for the baby herself, she was going to pass away but she couldn't give us a time frame as to when it would happen - but the option was there to continue the pregnancy and let nature take its course. The alternative was to end the pregnancy early. We could have a D&E in Washington DC - something we rejected outright - or Jean could be induced early. The hospital themselves did not offer this, and we were given the contact details of an OB in Alexandria. We told Karen we'd go home and think about it, and let her know our decision.
I'm amazed again I didn't crash the car on the way home. Our little girl was going to die, and there was nothing I could do about it. We got home,and we cried and cried hard. I was so, so angry with God - why was he doing this to our little girl? What had she ever done to deserve this? She is an innocent!!!! Because we didn't know when things would happen naturally, we decided to end things early, to help draw a line in the sand and to help us move on. We thought that by inducing Jean, we could spend some time with our little girl and say goodbye. We made an appointment with the OB in Alexandria for the following Thursday afternoon.
The Wednesday night was hard. We cried so hard, and I was so angry - it made Jean upset, but I couldn't help it. The baby knew something was wrong, and she was kicking furiously. I felt her kick for the first time that night - it was so beautiful and overwhelming. Neither of us slept that night, wrestling with our decision.
We drove out to Alexandria on Thursday. As we sat in the waiting room, our heads were full of doubts - I said to Jean that if she wanted, we could walk out and not look back, it was fine with me. The OB was nice, but clinical. When he explained what the procedure entailed, we were horrified, he was going to poison our little girl. She would die horribly, frightened and in pain - we couldn't do that to her, we just wanted to make sure our little girl did not suffer. After the doctor checked Jean's vital signs, he left us alone for a few minutes. Jean started having a panic attack - she couldn't do this to our baby, and I agreed. I told the doctor we would not go ahead with the procedure. We left quickly and sat in the car for a while - and for the first time in days, we felt at peace. It felt like we had made the right choice for our little girl - we were going to lose her, but she and God had the choice now as to when she'd leave us.
Over the next few weeks, we enjoyed our time with her. In the evenings, I'd put my head on Jean's belly and talk to her and she'd respond to my voice - you can't believe how happy that made me. She was Daddy's little girl! It's something I will always treasure. I hoped she'd be one of the lucky ones, would survive until birth and we'd at least be able to see her with her eyes open, looking at us and thinking 'Hi, I'm Arily! So, that's what you look like!'. I so wanted her to be strong enough to come home to Ireland at Christmas, and see her grandmother and auntie too. I just prayed that would happen, that we'd be given that much at least.
Tuesday, July 4th 2006 was of course Independence Day in the U.S., and we went in to watch the fireworks. Sitting together in front of the Washington Memorial watching the fireworks, I had my arms around Jean, holding her belly - I was holding my two girls close to me. I'll always remember that night as our last night together as a family. I think Arily passed away that night, safe and warm in her Mummy's belly - and she knew she was loved and cared for. That's all she ever wanted and asked for, and I like to think that's what we did for her.
On Thursday, July 6th we had a scheduled sonogram and OB visit, and we found out then she'd passed away. We were overcome - her heart had sounded so strong only 2 weeks before, it seemed inconceivable that she'd passed away. Karen scheduled Jean to be admitted the following day at 7am for induction. We left, utterly heartbroken.
Friday morning, we got to the hospital. It was a long, long day but finally on Saturday 8th July at 12:05 am EDT, Arily came into the world and was born to Heaven. She was so tiny and beautiful, and I was in love with her. We spent 12 precious hours with her, the most amazing 12 hours of my life. I held her, talked to her for so long. I brought her to the window and showed her the night sky, something I'd always imagined me doing with her, teaching her the constellations. I told her of all things I'd imagine doing with her, including bringing her to watch QPR at Loftus Rd. I told her how much her grandmother, my mum, would have loved to have held her and I so wished she could have been here. It was a special night, and over all too quickly. We played her some songs that became our songs for Arily - 'The Inner Light' from Star Trek, and 'All the Colours' by the Finn Brothers. Finally, it came to that moment we dreaded so much, the time to leave her go. Jean wrapped her up so beautifully in a rainbow coloured blanket the nurses gave us, and of course she had the beautiful dress Jean had made, plus a gorgeous hat also given to us. She looked warm and safe, and that meant a lot to me. It tore us apart to leave her, and it was the lowest moment of my life.
The support we've gotten has been unbelievably great, especially as we are so far from home and our families. Our friends and collegues have been great, and have helped us through this. Special mention must to the staff of Virgina Hospital Center in Arlington, and in particular to Karen, our midwife. She was absolutely brilliant, and we owe her so much.
I don't regret for a moment having her - she was the most beautiful little girl, and I feel privileged to have her as my daughter. She gave us so many happy memories, and I feel blessed to have those. I just wish we could have had for longer, so she could know what a strange, strange man her Daddy is. She will always be in my heart, and she will never, never be forgotten.
Sweet dreams my little Arily Bear.
Daddy
---